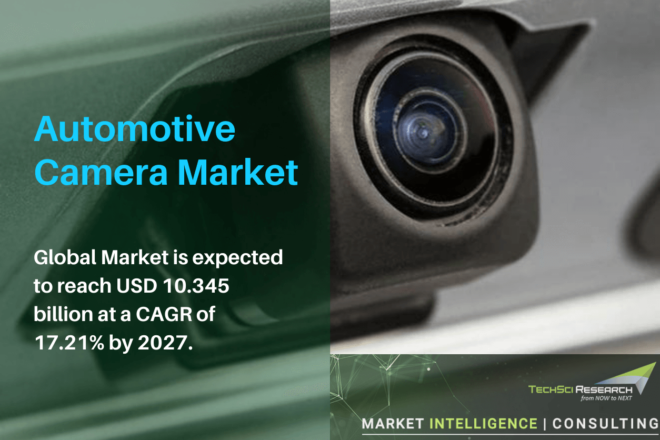 TechSci Research has reported that the Global Automotive Camera Market is expected to reach USD 10.345 billion at a CAGR of 17.21% by 2027. This growth is due to the rapid expansion of vehicle production and advancements in technology, which promote the adoption of ADAS. Automotive cameras are utilized in parking assistance, blind spot detection, surround view systems, and traffic sign detection, among other applications. ADAS features will be required to make front-facing cameras and radars standard equipment by 2024, according to EU regulations. Pedestrian fatalities account for more than 70% of deaths in dark environments, according to the Governors Highway Safety Association (GHSA). As a result, thermal cameras are expected to drive growth in this segment because they can provide reliable and safe ADAS features during the night.
The market for automotive cameras is expected to grow significantly and reach USD 10.345 billion by 2027, driven by a rise in the standard of living and a shift toward technologically advanced features. China currently has the largest market share due to its large vehicle production, but the US is expected to overtake China by 2027 due to higher camera penetration rates. The number of cameras per vehicle is expected to increase as technology improves, resulting in substantial growth in the global automotive camera market, as cameras are an essential component of image capturing and image processing algorithms in ADAS.
Browse more than 196 market data Figures spread through 110 Pages and an in-depth TOC on "Global Automotive Camera Market " – https://www.techsciresearch.com/report/automotive-camera-market/12870.html
The global COVID-19 pandemic had a negative impact on many industries, including the automobile industry, which experienced a reduction in production and sales of automobiles in 2020. Nevertheless, the automotive camera market demonstrated positive growth due to the global increase in the number of cameras per vehicle and camera penetration rate. Although the future of ADAS is promising, the pandemic's aftermath has clouded its outlook. This uncertainty is impacting the adoption of ADAS in several nations, such as the United States.
The global automotive camera market is segmented into digital cameras and thermal cameras based on technology type. The sales of digital cameras have increased in many countries over time, as many automotive manufacturers are taking steps to increase the number of cameras per car because they can help reduce the risk of accidents.
TechSci Research has segmented the Global Automotive Camera Market based on camera type, vehicle type, camera class, application, technology, region, and competition. Currently, monocular cameras hold the majority market share, accounting for 85% of the market. However, the demand for stereo cameras is gradually increasing with the advancement of technology. Automotive cameras are most commonly used in passenger vehicles, followed by light commercial vehicles and heavy commercial vehicles. Medium-class segment holds close to 50% of the total market share. ADAS is one of the fastest-growing segments in the automobile industry and is expected to become a standard feature in vehicles in the coming years. Digital cameras are widely used in automobiles due to technological advancements, while thermal cameras are growing at a slower rate due to image processing complexity.
In 2021, Europe accounted for the largest market share, i.e., 36.93% in the global automotive camera market. TechSci Research's Research Director, Mr. Karan Chechi, stated that having a camera in a car offers many benefits, such as recording the surroundings of a parked vehicle and submitting dash cam footage to insurance companies. Magna International Inc., Autoliv Inc., Robert Bosch GmbH, Continental AG, Aptiv Plc (Delphi Automotive Plc), Denso Corporation, Aei Inc., Gentex Corporation, Omni Vision Technologies Inc., Valeo SA, and ZF Friedrichshafen are the key players in developing advanced technologies and launching new products to stay competitive in the market. Local unorganized car dealers are also increasing their marketing activities and enriching their product portfolio in many countries to increase their customer outreach. Competitive strategies include mergers with tech firms, new product developments, and marketing activities to increase their customer outreach.
Customers can also request for 10% free customization on this report.
"The global automotive camera market appears to be one of the fastest expanding categories in the vehicle industry. Passenger vehicles accounted for the highest share of the Global Automotive Camera Market, with around 75% of total market and are likely to continue dominating throughout the forecast period.", said Mr. Karan Chechi, Research Director with TechSci Research, a research-based global management consulting firm.
"Automotive Camera Market – Global Industry Size, Share, Trends, Competition, Opportunity, and Forecast, 2017-2027, Segmented By Camera Type (Monocular Camera, Stereo Camera), By Vehicle Type (Passenger Car, Light Commercial Vehicle, Heavy Commercial Vehicle), By Camera Class (Entry Level, Medium, Premium), By Application (Rear View Assist, ADAS), By Technology (Digital Cameras, Thermal Cameras), By Region" has evaluated the future growth potential of global automotive camera market and provides statistics & information on market size, structure, and future market growth. The report intends to provide cutting-edge market intelligence and help decision makers take sound investment decisions. Besides, the report also identifies and analyzes the emerging trends along with essential drivers, challenges, and opportunities in the global automotive camera market.
Download Sample Report- https://www.techsciresearch.com/sample-report.aspx?cid=12870
About TechSci Research:
TechSci Research is a research-based management consulting firm providing market research and advisory solutions to its customers worldwide, spanning a range of industries. TechSci Research's core values are value, integrity and insight. Led by a team of dynamic industry experts, TechSci Research provides its customers with high value market research and advisory services that helps them identify new market opportunities, growth engines and innovative ways to capture the market share. As a result, TechSci's client leads rather than follow market trends. Not bound by legacy, TechSci's cutting-edge research model leverages its decades of research knowledge and an increased use of technology as engines of innovation to deliver unique research value. Provided as an alternative to traditional market research, TechSci Research reports do not just deliver data and knowledge rather highlights the insights in a more usable and interactive format for its clients.
Contact
Mr. Ken Mathews
708 Third Avenue,
Manhattan, NY,
New York – 10017
Tel: +1-646-360-1656
Email: [email protected]