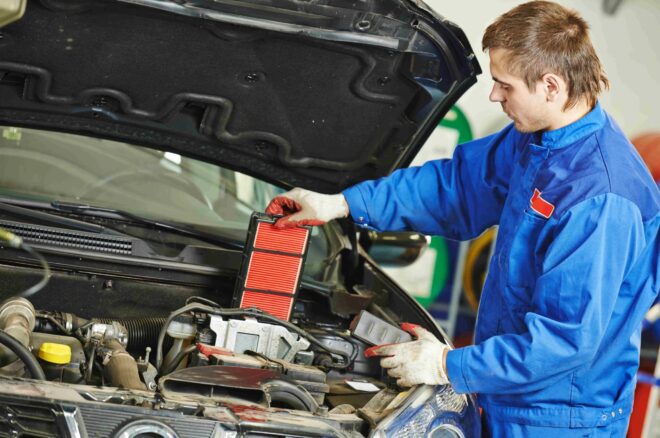 According to a report by TechSci Research titled "Automotive Filter Market – Global Industry Size, Share, Trends, Competition, Opportunity, and Forecast, 2017-2027," the global automotive filter market experienced a value of USD 48,396.65 million in 2021. It is anticipated that the market will grow at a CAGR of 3.82% during the forecast period and reach USD 60,148.69 million in 2027. This growth is primarily due to the increasing demand for automotive filters that are lightweight, fuel-efficient, and compact-sized. Moreover, the demand for automotive filters is expected to drive the market growth during the forecast period.
The automotive filter market is segmented based on various factors such as vehicle type, filter type, application, media, demand category, and region. An automotive filter typically comprises three segments, namely fuel filter, oil filter, and air filter, which are used to capture any debasements that may directly affect the engine's wear and tear. Dust or contaminants in the air can cause such debasements. The oil filter is used to filter out impurities from the oil and prevent engine components from getting damaged. This enhances engine performance and increases its lifespan. The fuel and gas used in internal combustion should be free of any debasements to improve mileage and power. Even a tiny dust particle can adversely affect engine performance. The air filter is divided into two sub-segments, namely cabin air filter and engine air filter. The cabin air filter removes pollen, dust, and airborne particles that enter the cabin through the ventilation, air conditioning, or heating system.
The majority share of the automotive filter market is captured by the Asia-Pacific region, which accounts for more than 50% of the overall market.
Browse over 156 market data Figures and Tables spread through 110 Pages and an in-depth TOC on" Global Automotive Filter Market"
The market further divides into different vehicle types, including passenger cars, two-wheelers, light commercial vehicles, medium and heavy commercial vehicles, and off-the-road vehicles. In 2021, passenger cars held the largest market share of 49.45%, followed by two-wheelers with a market share of 26.01%. Due to their high sales volume, the demand for filters during passenger car manufacturing is greater than for any other vehicle type. These cars are primarily used for daily activities such as commuting, shopping, and travel, resulting in a high demand for air filters that need replacement every six to twelve months. Additionally, people are increasingly concerned about air pollution, leading governments to take initiatives to reduce pollutants released by cars. Consequently, the filter media segment is expected to experience the fastest growth during the forecast period due to rising research and development.
The market is also segmented based on application into cabin filters and engine filters. In 2021, the majority of automotive filters sold were for engine air filters, which include oil, fuel, and air filters. Engine filter application commanded a substantial share of 82.63% in the global automotive filter market in 2021.
In terms of region, the market is divided into Asia-Pacific, North America, Europe, South America, the Middle East, and Africa. The Asia-Pacific region dominated the global automotive filter market, with China holding a market share of 54.76% in 2021. China accounted for the highest sales of automotive filters worldwide in 2021, with numerous small manufacturers of automotive filters such as Universe Filter, Arrow Auto Parts Manufacturing Co., Ltd., and filter original equipment manufacturers (OEMs) such as MANN+HUMMEL International GmbH & Co. KG, Donaldson Company Inc., etc. The region also leads in terms of automotive filter parts manufacturers, aftermarkets, and favorable government policies.
North America ranks second in terms of market share, accounting for 19.31% of the market among the other regions. The United States holds a major market share of 76.01% due to high automotive filter sales. In the past five years, there has been significant market penetration of automotive filters due to rapid eCommerce growth and a high rate of fleet replacements, and this trend is expected to continue in the future.
Key market players in the automotive filter market include:
MANN+HUMMEL International GmbH & Co. KG
MAHLE GmbH
Donaldson Company Inc.
Toyota Boshoku Corporation
Freudenberg SE
K&N Engineering, Inc
Denso Corporation
Elofic Industries Ltd
Hengst SE
Robert Bosch GmbH
Automotive filters manufacturers such as MANN+HUMMEL International GmbH & Co KG, MAHLE International GmbH, Donaldson Company, Inc., Toyota Boshoku Corporation, Freudenberg SE, K&N Engineering, Inc., Denso Corporation, Elofic Industries Ltd., Hengst SE, Robert Bosch GmbH are holding a significant position in the global automotive filter market.
"Asia-Pacific held the largest market share of 54.86% in the market in 2021 and is expected to be the leading region in the global automotive filter market on the account of availability of well-established automotive filter industry. Furthermore, the market's growth is being aided by the quick increase in research and development in the field, as well as the increasing environmental concerns toward developing fuel-efficient engines. Emerging market players are advised to invest and focus on the research and development of the automotive filters and services for the brand establishment. Collaborations and regulated deals with the established market players would help the prospects of the new market player," said Mr. Karan Chechi, Research Director with TechSci Research, a research-based global management consulting firm.
"Automotive Filter Market – Global Industry Size, Share, Trends, Competition, Opportunity, and Forecast, 2017-2027, Segmented By Vehicle Type (Passenger Cars, Light Commercial Vehicles, Medium & Heavy Commercial Vehicles, Two-Wheeler, Off-the-Road Vehicles), By Filter Type (Air Filter, Oil Filter & Fuel Filter), By Application (Cabin Air Filter, Engine Filter), By Filter Media (Particulate, Activated Carbon Media, Cellulose Media, Synthetic Media, Others), By Demand Category (OEM, Replacement), By Region, Competition, Forecast, & Opportunities, 2027", has evaluated the future growth potential of global automotive filter market and provides statistics & information on market size, structure and future market growth. The report intends to provide cutting-edge market intelligence and help decision-makers take sound investment decisions. Besides, the report also identifies and analyzes the emerging trends along with essential drivers, challenges, and opportunities in the global automotive filter market.
Download Sample Report – https://www.techsciresearch.com/sample-report.aspx?cid=2368
About TechSci Research:
TechSci Research is a research-based management consulting firm providing market research and advisory solutions to its customers worldwide, spanning a range of industries. TechSci Research's core values are value, integrity and insight. Led by a team of dynamic industry experts, TechSci Research provides its customers with high value market research and advisory services that helps them identify new market opportunities, growth engines and innovative ways to capture the market share. As a result, TechSci's client leads rather than follow market trends. Not bound by legacy, TechSci's cutting-edge research model leverages its decades of research knowledge and an increased use of technology as engines of innovation to deliver unique research value. Provided as an alternative to traditional market research, TechSci Research reports do not just deliver data and knowledge rather highlights the insights in a more usable and interactive format for its clients.
Contact
Mr. Ken Mathews
708 Third Avenue,
Manhattan, NY,
New York – 10017
Tel: +1-646-360-1656
Email: [email protected]