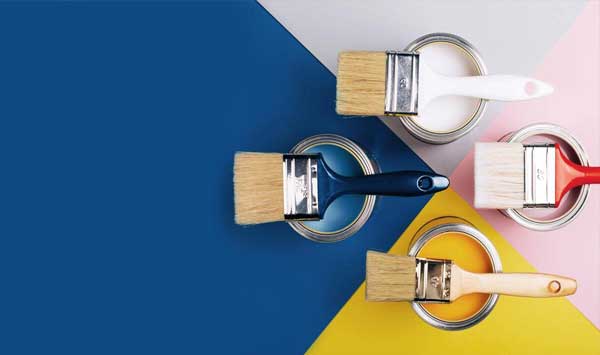 The GCC decorative paints market is predicted to proliferate during the forecast period. Enhancing a surface's aesthetic attractiveness is the goal of decorative paints. They are frequently used both indoors and outside, for things including furniture, walls, ceilings, and other decorative components. Decorative paints are a flexible tool that both homeowners and interior designers can use to give their spaces a distinctive look and feel since they are offered in a broad variety of colours, textures, and finishes.
Growing Building and Construction Industry
The demand for new residential and commercial properties has surged in UAE due to the country's fast urbanisation and expanding middle class. The rise in construction activities is fuelling the market for decorative paints due to more paint and coatings are needed for both indoor and outdoor applications. The aesthetic importance of consumers' homes and workplaces is becoming increasingly apparent. The use of different colours and finishes for interior and exterior walls is growing in popularity, increasing the need for decorative paints. This tendency has been aided by rising consumer disposable incomes, shifting lifestyles, and exposure to fashion trends.
Download FREE Sample Report @ https://www.techsciresearch.com/sample-report.aspx?cid=15548
For instance,
The UAE government intends to invest over USD 23 billion in infrastructure projects across the country, while the Ministry of Energy & Infrastructure has announced to invest USD 3.4 billion in development projects by 2023.
The demand for decorative paint is expected to rise in the upcoming years because of upcoming megaprojects in the United Arab Emirates, including the Abu Dhabi Midfield Terminal, Etihad Rail passenger train, Burj Binghatti, Abu Dhabi Midfield Terminal, SeaWorld Abu Dhabi, Dubai Wasl Tower, and Baccarat Hotel and Residences Dubai, among others.
On 11th December 2022, the Kingdom of Saudi Arabia (KSA) invested worth USD 1 trillion in real estate and infrastructure. The KSA intends to develop at least eight new cities and predominantly along the coast of the Red Sea, with over 1.3 million new homes by the end of 2030.
Upcoming mega projects in Saudi Arabia:

Neom – USD 500 billion– a high-tech city that serves as Saudi Arabia's Vision 2030's flagship project. It is being constructed in a location that is more than 35 times the size of Singapore, covering a total area of 26,500 square kilometres, and it has more than 450 km of coastline. The building town is expected to include parks and athletic amenities.
Jabal Omar – USD 4.4 billion – This significant Makkah development, which spans 40 hectares and costs USD 4.4 billion, is one of the greatest building projects in the kingdom. The project, which comprises a mixture of towering hotels and residences, can accommodate up to 36,000 visitors yearly and more than 100,000 during the Hajj season.
Therefore, the market of decorative paints is expected to grow in UAE during 2024-2028F.
Drivers and Trends: Booming Tourism and Hospitality Sector
The government provided a significant portion of the funding for Dubai's infrastructure building, which sparked a boom in the tourism and hospitality industries. These expenditures have been done with the twin goals of luring tourists and preparing the nation for the international event Dubai Expo 2020, which was completed in March 2022, anticipating foreign investments in the country. The "Dubai Tourism Strategy 2025" and the "Dubai 2040 Urban Master Plan" are two such policies that seek to expand the number of visitors that visit Dubai and enhance the nation's tourism and hospitality infrastructure by 134%, therefore bolstering the UAE's tourism and hospitality sector in the GCC region. Additionally, the World Travel and Tourism Council forecasts that the UAE's travel and tourism industry would produce 72 billion USD in revenues and contribute 12.7% to GDP by 2027. Thus, it is anticipated that the growth of the GCC decorative paints market is expected to boost in the upcoming years 2024-2028F.
Urbanization and Nuclearization of Families
The increase in urbanisation and the nuclearization of families have increased demand for new homes, offices, retail locations, hotels, and other types of infrastructure. These locations require painting and coating for safety, aesthetics, and maintenance. In addition, because of urbanisation, people's lifestyles and ambitions are changing, and they are looking for more aesthetically pleasant and visually appealing living and work places. To enhance the image of major cities, there is a growing need for decorative paints that offer a range of colours, textures, and finishes. For instance, the current population of UAE is 9,516,871, which is a 0.8% increase as compared to 2022. In 2022, the population of UAE was 9,441,129, which has a 0.81% increase from 2021, in 2021, the population of UAE was 9,365,145, a 0.84% increase from 2020. Additionally, the population of Saudi Arabia in 2023 is 36,947,025, which is a 1.48% rise from 2022 as well as the population of Saudi Arabia in 2022 was 36,408,820, a 1.28% increase from 2021. As a result, the decorative paint industry is expected to expand as urbanization increases the demand for housing. Moreover, the demand for decorative paints is also increasing in the GCC region during 2024-2028F.
Challenges: Intensive Dependence on Raw Material
Raw materials are essential for producing decorative paint products. The operations and profitability of the decorative paints market are significantly impacted by the cost, quality, and availability of raw materials, which are necessary components used in the manufacturing of paints and coatings. The availability of raw ingredients including pigments, resins, solvents, and additives determines the quantity of paint and coating that can be produced. Any interruption or shortage in the supply of raw materials can have a direct impact on the decorative paints market's capacity to meet consumer demand and finish orders on time. Raw materials play a key part in the decorative paints market due to their critical role in the manufacturing process, effect on product quality and performance, cost consequences, regulatory compliance, and innovation.
Impact of COVID-19
The primary industries such as construction, automotive, and oil refinery are the major contributors to the economic growth of such nations. Gulf countries are important producers of crude oil and natural gas. Lockdowns and other social restrictions, such as social restrictions and quarantining, were enacted by the governments of Gulf nations to stop the spread of virus. According to a report, these restrictions had a negative effect on how these industries operated because there was a labour shortage in manufacturing facilities, the decline in global oil demand resulted in a reduction in oil supplies to major exporters, and construction activities was stopped. For instance, the output of the construction sector for 2020 declined by 10.4% in UAE country.
Recent Developments:
On 15th July 2022, the Crown Prince of Ajman in the northern emirate announced an investment of USD 27.8 million in several infrastructure development projects. It aims to upgrade its economy by placing a focus on the construction and architectural sectors. Additionally, according to a study, UAE is expected to reach USD 89.93 billion in infrastructure projects by the end of 2026.
In February 2022, PPG purchased the Powder Coatings Manufacturing Business from Arsonsisi. PPG expanded its selection of powder coatings in the Middle East and Africa (EMEA) by introducing metallic bonding, one of the fastest-growing markets for powder coatings used in speciality finishes for automotive, appliance, and general industrial applications.
In 2021, Jazeera Paints, one of the Saudi Arabian paint companies, introduced cold plastic to the Mena market. Cold Plastic, a quick-drying gloss paint based on the most recent road marking paint technology, Centrecoat Methyl Methacre (MMA), is suggested for traffic sign and signal markings on public roads, driveways, and parking lots. This product is renowned for its outstanding resistance to abrasion, UV radiation, and other environmental conditions.
On 30th July 2020, Rosewood Hotels and Resorts expanded its presence in the GCC by planning to open a hotel and residences in Doha, Qatar, in 2022. Rosewood Doha and Rosewood Residences Doha, which are two towers buildings, contain a 40-story structure with 300 residences accessible to purchase and a 37-floor tower with a 185-room ultra-luxury hotel and 173 serviced apartments for longer stays.
Market Segmentation
The GCC decorative paints market is divided into product type, type of plant, application, sales channel, and end user. Based on product type, the market is divided into water based, and solvent based. Based on the type of paint, the market is divided into emulsion, enamel, distemper, primer, textures, and others. Based on application, the market is divided into exterior and interior. Based on sales channel, the market is divided into offline and online. Based on end user, the market is divided into residential and non-residential. Based on country, the market is segmented into United Arab Emirates, Bahrain, Saudi Arabia, Oman, Qatar, and Kuwait.
Company Profiles
Akzo Nobel UAE Paints L.L.C, Jazeera Paints Company, BASF SE, Becker Industrial Coatings L.L.C, Kuwait Paints Company (Al-Babtain Group), GTC Paints Co Ltd, Hempel Paints Kuwait Company KSCC (Hempel Paints), Benjamin Moore & Co, Jotun U.A.E. Ltd. (LLC) and Sigma Paints SA Limited are among the major players in the GCC decorative paints market.
| | |
| --- | --- |
| Attribute | Details |
| Base Year | 2022 |
| Historical Years | 2018 – 2021 |
| Estimated Year | 2023 |
| Forecast Period | 2024 – 2028 |
| Quantitative Units | Revenue in USD Billion and CAGR for 2018-2022 and 2023E-2028F |
| Report Coverage | Revenue forecast, company share, competitive landscape, growth factors, and trends |
| Segments Covered | Product TypeType of PlantApplicationSales ChannelEnd UserCountry |
| Country Scope | United Arab Emirates, Bahrain, Saudi Arabia, Oman, Qatar, Kuwait |
| Key Companies Profiled | Akzo Nobel UAE Paints L.L.C, Jazeera Paints Company, BASF SE, Becker Industrial Coatings L.L.C, Kuwait Paints Company (Al-Babtain Group), GTC Paints Co Ltd, Hempel Paints Kuwait Company KSCC (Hempel Paints), Benjamin Moore & Co, Jotun U.A.E. Ltd. (LLC) and Sigma Paints SA Limited |
| Customization Scope | 10% free report customization with purchase. Addition or alteration to country, regional & segment scope. |
| Pricing and Purchase Options | Avail of customized purchase options to meet your exact research needs. Explore purchase options |
| Delivery Format | PDF and Excel through Email (We can also provide the editable version of the report in PPT/pdf format on special request) |
Report Scope:
In this report, the GCC decorative paints market has been segmented into the following categories, in addition to the industry trends which have also been detailed below:
GCC Decorative Paints Market, By Product Type:

Water Based,
Solvent Based

GCC Decorative Paints Market, By Type of Paint:

Emulsion
Enamel
Distemper
Primer
Textures
Others

GCC Decorative Paints Market, By Application:
GCC Decorative Paints Market, By Sales Channel:
GCC Decorative Paints Market, By End User:

Residential
Non-Residential

GCC Decorative Paints Market, By Country:
United Arab Emirates
Bahrain
Saudi Arabia
Oman
Qatar
Kuwait
Related Reports
Asia-Pacific Paints & Coating Market [2028]: Analysis & Forecast
Indonesia Tiles Market [2028] – Forecast & Projected Growth
Saudi Arabia Decorative Paints Market – Future, Scope, Trends [2028]
Table of Content-GCC Decorative Paints Market
Product Overview
1.1. Market Definition
1.2. Scope of the Market
1.2.1. Markets Covered
1.2.2. Years Considered for Study
1.2.3. Key Market Segmentations
Research Methodology
Executive Summary
Voice of Customer
4.1. Brand Awareness
4.2. Key Factors for Selecting Vendor
4.3. Key Satisfaction Level
4.4. Key Challenges Faced
GCC Decorative Paints Market Outlook
5.1. Market Size & Forecast
5.1.1. By Value
5.2. Market Share & Forecast
5.2.1. By Product Type (Water Based, Solvent Based)
5.2.2. By Type of Paint (Emulsion, Enamel, Distemper, Primer, Textures, Others)
5.2.3. By Application (Exterior, Interior)
5.2.4. By Sales Channel (Offline, Online)
5.2.5. By End User (Residential, Non-Residential)
5.2.6. By Country (United Arab Emirates, Bahrain, Saudi Arabia, Oman, Qatar, Kuwait)
5.3. By Company (2022)
5.4. Market Map
United Arab Emirates Decorative Paints Market Outlook
6.1. Market Size & Forecast
6.1.1. By Value
6.2. Market Share & Forecast
6.2.1. By Product Type
6.2.2. By Type of Paint
6.2.3. By Application
6.2.4. By Sales Channel
6.2.5. By End User
Bahrain Decorative Paints Market Outlook
7.1. Market Size & Forecast
7.1.1. By Value
7.2. Market Share & Forecast
7.2.1. By Product Type
7.2.2. By Type of Paint
7.2.3. By Application
7.2.4. By Sales Channel
7.2.5. By End User
Saudi Arabia Decorative Paints Market Outlook
8.1. Market Size & Forecast
8.1.1. By Value
8.2. Market Share & Forecast
8.2.1. By Product Type
8.2.2. By Type of Paint
8.2.3. By Application
8.2.4. By Sales Channel
8.2.5. By End User
Oman Decorative Paints Market Outlook
9.1. Market Size & Forecast
9.1.1. By Value
9.2. Market Share & Forecast
9.2.1. By Product Type
9.2.2. By Type of Paint
9.2.3. By Application
9.2.4. By Sales Channel
9.2.5. By End User