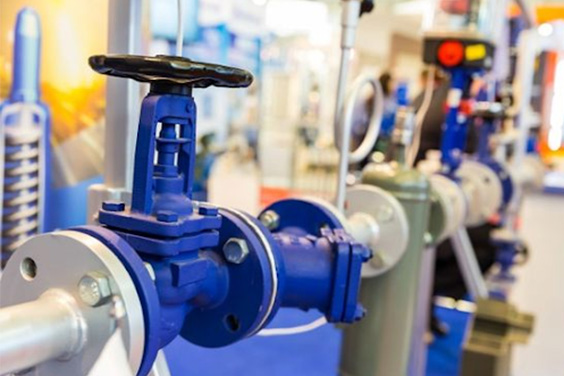 Adoption of Smart Valves Control Systems & rising of the industrial sector in the nations are driving the Global Industrial Valves Market.
According to TechSci Research report, "Global Industrial Valves Market – By Region, Competition, Forecast & Opportunities, 2028". The current investments and trend of polymer technologies in industries are expected to drive the market growth of industrial valves in the upcoming years, leading to an expected healthy expansion of the industrial valves market.
Industrial valves are devices for controlling the flow of gases, liquids, and slurries. You may use these valves to regulate the flow of gases or liquids. To do this, pipes and other routes can be partially blocked, closed, and opened. The flow and pressure inside a system or process are controlled by valves, which are essentially mechanical devices. Every pipe system that transports liquids, gases, vapors, slurries, etc. must include them as vital components. Authorities today must put up a lot of effort to provide residents with a variety of services. As a result, the valves sector has significant development potential. Across the globe, governments are spending more to give every household necessity like gas and clean water. To deliver fresh water, new water treatment plants are being built. Gas delivery to both residential and non-residential properties is now possible with the introduction of many new pipeline projects. Industrial valves are more frequently employed to control the flow of gas through distribution systems. To accommodate this rise in demand, the government and major oil and gas businesses are searching for additional reservoirs. In turn, it will help the nation's market for industrial valves to expand. The need for industrial pumps and other enhanced regulating devices is also increasing because of the government and other businesses establishing numerous new power-producing facilities.
Based on valve type, the globe valve is the leading segment in the global industrial valves market with a market share of 21.4% in 2022 and followed by the Ball Value with a market share of 20.45% in 2022. The Globe Valve is in the lead because it is the most widely used industrial valve and permits fluid circulation during a process. With the primary purposes of halting, beginning, and controlling flow, its flexibility is a crucial component in the market for industrial expansion and linear motion valves. The discs of a globe valve could totally seal or completely obstruct the flow route. The cooling water, fuel oil, feedwater, chemical feed, condenser air extraction, and drain systems are the most typical applications for Globe valves. That flow needs to be managed by substantial applications in cooling water systems. Since the discs and seats are easily replaceable or repaired, the leading valve requires minimal care. Therefore, globe valves are appropriate for applications that require frequent valve maintenance, and they are widely employed to control flow. The flow control pressure drop range needs to be considered while designing the valve to avoid early failure and offer adequate service. Valve trim must be developed for optimal high-differential pressure throttling.
Browse over 167 market data Figures spread through 221 Pages and an in-depth TOC on the"Global Industrial Valve Market"
https://www.techsciresearch.com/report/global-industrial-valves-market/1572.html
In terms of regional analysis, the global industrial valves Market is segmented into North America, South America, the Middle East & Africa, Asia- Pacific & Europe. Asia Pacific region leads the industrial valve with a market share of 36.71% in 2022 and followed by Europe with a market share of 23.02% in 2022. The industrial valve market offers attractive potential in the Asia Pacific Region, which is home to the majority of emerging nations like India, Vietnam, Indonesia, and others. China is investing heavily in coal-to-liquid technologies throughout Asia-Pacific. The need for industrial valves in the area is rising because of processes like carbon sequestration, shale gas advancements, and the development of several coal-fired facilities in China. Developing nations like China and India are growing their power capacity to meet the rising demand for energy. Nuclear power facilities in the area also employ industrial valves in addition to electricity plants. Large local government investment in the pharmaceutical, healthcare, life sciences and biotechnology industries has also contributed to the growth of Asia's biopharmaceutical companies. The need for industrial valves is expected to increase as a result of these expectations for industrial expansion, which is expected to substantially fuel market growth.
Using thermoplastics and polymer technologies to manufacture valves, especially butterfly valves, is a recent trend that is catching hold all around the world. Customers all over the world desire valves that can offer high-strength mechanical qualities and are well-suited to activities involving water. As a result, the production of technologically superior valves is a focus for valve manufacturers worldwide. This market is expected to expand throughout the projected period.
Key market players in the global industrial valve market include:
Emerson Electric Co.
Flowserve Corporation
Alfa Laval Corporate AB
Crane Co
IMI Plc
Schlumberger N.V. (Schlumberger Limited)
Baker Hughes Company
MRC Global Inc.
KITZ Corporation
The Weir Group PLC
Customers can also request for 10% free customization on this report.
"Global industrial valve installation is anticipated to increase as a result of investments in pipeline infrastructure for downstream applications in the oil and gas industry. Additionally, it is anticipated that rising healthcare device output and pharmaceutical sector R&D expenditures would boost the market for industrial valves. Therefore, these factors are fuelling the market growth of the Global Industrial Valves Market in the upcoming years", Mr. Karan Chechi, Research Director with TechSci Research, a research-based global management consulting organization.
"Global Industrial Valves Market By Valve Type (Globe Valves, Ball Valves, Butterfly Valves, Wedge Gate Valves, Knife Gate Valves, Check Valves, Diaphragm Valves, Pinch Valves, Float Valves, Air Valves, Automatic Control Valves, Resilient Seal Gate Valves, Others), By Material Type (Cast Iron, Steel, Cryogenic, Alloy Based, Others), By Application (Oil & Gas, Refinery, Chemical, Water, Wastewater Effluent, Power Generation, Agriculture, Mining, Others), By Product (Quarter turn Valve, Multi turn Valve, Others) By Region, Competition, Forecast & Opportunities, 2028", has evaluated the future growth potential of Global Industrial Valve Market and provides statistics and information on market structure, size, share, and future growth. The report is intended to provide cutting-edge market intelligence and help decision makers take sound investment decisions. Besides, the report also identifies and analyzes the emerging trends along with essential drivers, challenges, and opportunities present in the Global Industrial Valve Market.
Contact
Mr. Ken Mathews
708 Third Avenue,
Manhattan, NY,
New York – 10017
Tel: +1-646-360-1656
Email: [email protected]m
Website: https://www.techsciresearch.com