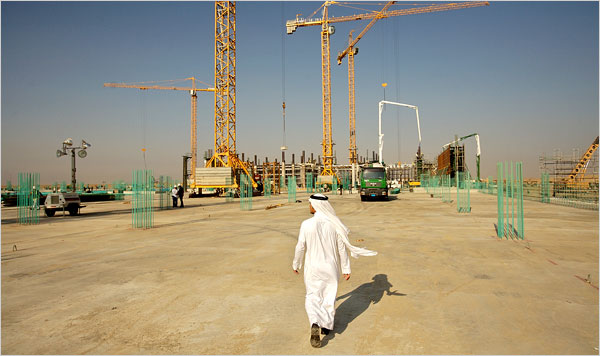 Saudi Arabia Construction Market is anticipated to grow at a steady pace in the forecast period, 2024-2028. As of October 2022, Saudi Arabia Construction Market is expected to grow since investment through public and private partnerships is on the rise with assets of around USD31 billion. Additionally, keeping up with Vision 2030, the development of Mecca, Medina, and projects in the pilgrim city are gaining traction with major spending on the expansion of the Great Mosque of Mecca. Furthermore, net spending has also increased in the field of education as the construction of Knowledge Economic City has attracted an investment of close to USD 8 billion.
Participation of Foreign Investors Propelling the Market Growth
With several incentives and exemptions from taxes, the government of Saudi Arabia has permitted 100% ownership of companies, plants, equipment, projects, and real estate. For instance, the top 10 contractors in the kingdom are in control of 400 billion dollars worth of projects that are now being completed, which makes up 40% of the USD 1.1 trillion worth of projects that are currently in the pipeline.With a total of USD 85 billion (15%) already granted throughout 2021 and 2022 (as of the end of October), MEED (Middle East's premium project tracking database) Projects estimates that the overall value of projects awarded in Saudi Arabia between 2021 and 2025 would be USD 569 billion. These aspects collectively are luring overseas investment. Download FREE Sample Report @ https://www.techsciresearch.com/sample-report.aspx?cid=4040     In Saudi Arabia, a large number of building projects are primarily concerned with creating new projects and modernizing the country's current infrastructure.
Rising Focus of Saudi Arabian Government on Vision 2030
Rising focus of Saudi Arabia government on building its net spending and launching of Vision 2030 is expected to significantly boost the country's economy and construction sector in the coming years. For that government has aimed some major goals, for instance,to expand the assets of the public investment fund from USD 159.89 billion in 2016 to USD 1,865.40 billion in 2030 and to raise the proportion of exports based on non-oil sources from 16% in 2016 to 50% in 2030. Saudi Arabia construction sector's immediate outlook looks promising, and the annual average growth rate is expected grow during forecast period.Additionally, in 2019, the Kingdom of Saudi Arabia's (KSA) plan of spending on infrastructure development of USD300 billion, with the increase of 13% over 2018, is still going on. The Saudi Arabian government is dealing with a number of difficulties, particularly in controlling the country's fiscal loans, diversifying its sources of income, and reducing its reliance on oil. As the government works on reducing oil dependency, which is a significant contributor to the nation's GDP, non-oil-based industries have seen an increase in their earnings. Furthermore, infrastructure and transport accounted for around 6.30 percent of KSA's budget, and the country is currently raising its development expenditure.Moreover, the big budget reveals that KSA anticipates considerable revenue growth in the upcoming years. The National Transformation Program (NTP) 2020, a project launched to build the institutional capacity and competencies required to realize Saudi Arabia's Vision 2030, is merely one of the steps done to encourage greater investment in the non-oil economy as a result of falling crude oil prices. Furthermore, owing to the growth in the last two years. Saudi Arabia Construction Market is expected to resister a high CAGR in the forecast period. Additionally developing businesses demonstrate a preference for using only skilled labor for building operations and favor hiring qualified electricians, carpenters, etc. The construction industry is facing difficulties since Saudi Arabia lacks an experienced labor force. These factors are restraining the Saudi Arabia Construction Market in the forecast period.
Master Plan for Saudi Tourism Fueling the Market Growth
The market is expanding quickly, due to increased expenditure on airport expansion and construction as well as the country's tourism industry's fast rise. Developing the nation's transport infrastructure is another major expense for Saudi Arabia. A few of the efforts undertaken by the Ministry of Transport in KSA include the GCC Railway Network, Saudi Arabian Railway Network, Bus & Transit System, and Metro Transit Systems. Additionally, as King Fahad Industrial Port expands with the installation of new berths, the nation's investment in port facility construction has surged in recent years. For instance, Master Plan for Saudi Railways is going on and project is estimated to be finished by the end of year 2040, with a total expenditure of around USD95 billion.
Growth Demand of Infrastructure Development
The population of Saudi Arabia was 33.95 million in 2017 and 37.20 million in 2020, generating an enormous demand for houses in the years to come. Moreover, the development of new cities and government development plans are expected to significantly accelerate the expansion of the residential construction building sector. Hence the market is gaining traction due to these factors. Additionally, higher disposable income, raised urbanization, newly updated mortgage, and tax regulations, which loosened lending restrictions, are factors that are anticipated to considerably entice customers to acquire new homes, hence increasing demand for housing and propelling the Saudi Arabia Construction Market Growth.The manufacturing sector in the nation is also expanding, particularly in the pharmaceutical industry where several multinational companies like GSK, Novartis, etc. have established production facilities. Furthermore, considerable investment is projected for transport development with the construction of the Haramain High Speed Rail and the Saudi Railway Masterplan.
Recent Developments
China Harbour Engineering company declared in a statement that Saudi Arabia has been given two contracts in January 2023. The primary scope of work for the first contract involves different pipeline facilities, earthworks, auxiliary housing construction facilities, and it relates to constructing the infrastructure of a new project in Riyadh. This project business secured for the second pipeline network project in the center Saudi Arabian city of Riyadh, is also a significant accomplishment for the company's active "secondary operation" for core shareholders.In the NEOM area of northwest Saudi Arabia, Bechtel has been chosen to serve as the project management consultant for TROJENA, a year-round mountain resort. The Kingdom's Vision 2030 ambitions of increasing tourism and diversifying its economy away from hydrocarbons will be aided by TROJENA. Bechtel is eager to assist NEOM's goals for sustainability in this capacity by offering services such as technical, commercial, and construction management for the development of TROJENA.According to the announcement made by the country's crown prince Mohammed bin Salman. As per Saudi Arabia's NEOM, Sindalah, an island off the development's coast, will open in 2024, and the giga-project will build Sindalah, a group of islands with a total size of around 840,000 square meters.The Public Investment Fund of Saudi Arabia has unveiled a daring new concept that would create the biggest contemporary downtown in the world, one big enough to house 20 Empire State Buildings. The Mukaab, a cube metropolis that is 400 meters tall and 400 meters wide, will be the focal point of a new downtown district in Riyadh.Saudi Arabia planned four USD23 billion entertainment and lifestyle projects in Riyadh in 2019 to complement its giga-projects, currently project is under construction and expected to be completed by the end of 2023. (These include Riyadh Art, Sports Boulevard, Green Riyadh, and King Salman Park.)
Market Segmentation
The Saudi Arabia Construction Market is divided into type, sector, end user, construction type, region and competitive landscape. Based on Type, the market is segmented into Building Construction, Heavy & Civil Engineering Construction, and Others. Based on End User, the market is segmented into Private and Public. Based on Sector, the market is segmented into Commercial, Residential, Industrial, Infrastructure. Based on Construction Type the market is segmented into New Construction, Repair and Maintenance. Based on region, the market is divided into Northern & Central Region, Western Region, Eastern Region, Southern Region.
Market Players
Main market players in the Saudi Arabia Construction Market are Saudi Arabian Bechtel Co, CB&I LLC, Fluor Corp, Tekfen Construction and Installation Co. Inc, Gilbane Building Co, Jacobs (CH2M Saudi Limited), AL Jazirah Engineers & Consultants, Al Latifa Trading and Contracting, Afras Trading and Contracting Company, Al-Rashid Trading & Contracting Company.
AttributeDetailsBase Year2022Historic Data2018 – 2021Estimated Year2023Forecast Period2024 – 2028Quantitative UnitsRevenue in USD Million, and CAGR for 2018-2022 and 2023-2028Report coverageRevenue forecast, company share, growth factors, and trendsSegments coveredTypeEnd UserSectorConstruction TypeRegional scopeEastern Region, Northern & Central Region, Western Region, Southern RegionKey companies profiledSaudi Arabian Bechtel Co, CB&I LLC, Fluor Corp, Tekfen Construction and Installation Co. Inc, Gilbane Building Co, Jacobs (CH2M Saudi Limited), AL Jazirah Engineers & Consultants, Al Latifa Trading and Contracting, Afras Trading and Contracting Company, Al-Rashid Trading & Contracting CompanyCustomization scope10% free report customization with purchase. Addition or alteration to country, regional & segment scope.Pricing and purchase optionsAvail customized purchase options to meet your exact research needs. Explore purchase optionsDelivery FormatPDF and Excel through Email (We can also provide the editable version of the report in PPT/Word format on special request)
Report Scope:
In this report, the Saudi Arabia Construction Market has been segmented into following categories, in addition to the industry trends which have also been detailed below:
Saudi Arabia Construction Market, By Type:
Building ConstructionHeavy & Civil Engineering ConstructionOthers
Saudi Arabia Construction Market, By End User:Saudi Arabia Construction Market, By Sector:
CommercialResidentialIndustrialInfrastructure
Saudi Arabia Construction Market, By Construction Type:
New ConstructionRepair and Maintenance
Saudi Arabia Construction Market, By Region:
Eastern RegionNorthern & Central RegionWestern RegionSouthern Region
Competitive LandscapeCompany Profiles:
 Detailed analysis of the major companies present in the Saudi Arabia Construction Market.
Available Customizations:
 TechSci Research offers customizations according to a company's specific needs. The following customization options are available for the report:
Company Information
Detailed analysis and profiling of additional market players (up to five).
Related Reports
Wooden Formwork Systems Market
[2028] – Report & Market Share
Pre-Engineered Buildings Market
 – 
[2028] Growth, Trends & Forecast
Table of Content-Saudi Arabia Construction Market
Product Overview
1.1.  Market Definition1.2.  Scope of the Market1.3.  Markets Covered1.4.  Years Considered for Study1.5.  Key Market Segmentations
Research Methodology
2.1.  Baseline Methodology2.2.  Key Industry Partners2.3.  Major Association and Secondary Sources2.4.  Forecasting Methodology2.5.  Data Triangulation & Validation2.6.  Assumptions and Limitations
Executive SummaryVoice of Customers
4.1.  Brand Awareness4.2.  Factors Considered While Selecting Vendors4.3.  Major Challenges/Issues Faced
Saudi Arabia Construction Market Outlook
5.1.  Market Size & Forecast5.1.1.    By Value5.2.  Market Share & Forecast5.2.1.    By Type (Building Construction, Heavy & Civil Engineering Construction, Others)5.2.2.    By End User (Private and Public)5.2.3.    By Sector (Commercial, Residential, Industrial, Infrastructure)5.2.4.    By Construction Type (New Construction, Repair and Maintenance)5.2.5.    By Region (Northern & Central Region, Western Region, Eastern Region, Southern Region)5.3.  By Company (2022)5.4.  Market Map
Northern & Central Region Construction Market Outlook
6.1.  Market Size & Forecast6.1.1.    By Value6.2.  Market Share & Forecast6.2.1.    By Type6.2.2.    By End User6.2.3.    By Sector6.2.4.    By Construction Type
Western Region Construction Market Outlook
7.1.  Market Size & Forecast7.1.1.    By Value7.2.  Market Share & Forecast7.2.1.    By Type7.2.2.    By End User7.2.3.    By Sector7.2.4.    By Construction Type
Eastern Region Construction Market Outlook
8.1.  Market Size & Forecast8.1.1.    By Value8.2.  Market Share & Forecast8.2.1.    By Type8.2.2.    By End User8.2.3.    By Sector8.2.4.    By Construction Type
Southern Region Construction Market Outlook
9.1.  Market Size & Forecast9.1.1.    By Value9.2.  Market Share & Forecast9.2.1.    By Type9.2.2.    By End User9.2.3.    By Sector9.2.4.    By Construction Type
Market Dynamics
10.1.   Drivers10.2.   Challenges
Market Trends & DevelopmentsPolicy & Regulatory LandscapeCompany Profiles
13.1.   Saudi Arabian Bechtel Co13.1.1. Business Overview13.1.2. Key Revenue and Financials (If Available)13.1.3. Recent Developments13.1.4. Key Personnel13.1.5. Key Product/Services13.2.   Fluor Corp13.2.1. Business Overview13.2.2. Key Revenue and Financials (If Available)13.2.3. Recent Developments13.2.4. Key Personnel13.2.5. Key Product/Services13.3.   Tekfen Construction and Installation Co. Inc.13.3.1. Business Overview13.3.2. Key Revenue and Financials (If Available)13.3.3. Recent Developments13.3.4. Key Personnel13.3.5. Key Product/Services13.4.   Gilbane Building Co.13.4.1. Key Revenue and Financials (If Available)13.4.2. Recent Developments13.4.3. Key Personnel13.4.4. Key Product/Services13.5.   Jacobs (CH2M Saudi Limited)13.5.1. Business Overview13.5.2. Key Revenue and Financials (If Available)13.5.3. Recent Developments13.5.4. Key Personnel13.5.5. Key Product/Services13.6.   AL Jazirah Engineers & Consultants13.6.1. Business Overview13.6.2. Key Revenue and Financials (If Available)13.6.3. Recent Developments13.6.4. Key Personnel13.6.5. Key Product/Services13.7.   Al Latifa Trading and Contracting13.7.1. Business Overview13.7.2. Key Revenue and Financials (If Available)13.7.3. Recent Developments13.7.4. Key Personnel13.7.5. Key Product/Services13.8.   Afras Trading and Contracting Company13.8.1. Business Overview13.8.2. Key Revenue and Financials (If Available)13.8.3. Recent Developments13.8.4. Key Personnel13.8.5. Key Product/Services13.9.   Al-Rashid Trading & Contracting Company13.9.1. Business Overview13.9.2. Key Revenue and Financials (If Available)13.9.3. Recent Developments13.9.4. Key Personnel13.9.5. Key Product/Services13.10. CB&I LLC13.10.1.               Business Overview13.10.2.               Key Revenue and Financials (If Available)13.10.3.               Recent Developments13.10.4.               Key Personnel13.10.5.               Key Product/Services
Strategic Recommendations