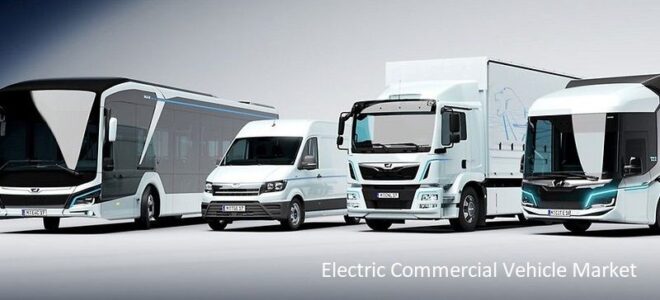 Increase in environmental concerns, supportive government policies and regulations regarding EV adoption along with subsidies, decreasing battery prices, and advancement in charging technologies will lead to the growth of electric commercial vehicle all over the world during the forecast period.

According to TechSci Research report, "Electric Commercial Vehicle Market– Global Industry Size By Vehicle Type, By Propulsion Type, By Range, By Region, Competition, Forecast & Opportunities, 2017-2027F", Global electric commercial vehicle market is anticipated to grow at a robust growth rate of 19.43% during the forecasting period, owing to sustainable government regulations. China, being the largest electric commercial vehicle producer and market in the world, it is expected to grow at a CAGR of 13.52% during the forecast period. According to the Government of China, it is planning to improve the productivity of electric commercial vehicles. China, which is the world's largest producer and consumer of electric commercial vehicles, has a dominance in the EV market. Their government has taken initiative, including providing subsidies for EV buyers, enacting laws requiring all automakers to produce EVs in proportion to the volume of vehicles they produce, providing significant funding for the installation of EV charging stations throughout major cities, and enacting regulations against excessively polluting vehicles. The EV market has also been expanding in Japan and South Korea. Their governments installed EV charging stations, created pollution standards, established deadlines for switching from ICE vehicles to full or hybrid EVs, and other measures to assist the growth of EV demand. India is striving to enhance its EV market demand.

Global electric commercial vehicle market is classified based on vehicle type, propulsion type, range, and region. Based on propulsion type the market is segmented into hybrid electric vehicle, battery electric commercial vehicle, plug-in hybrid electric commercial vehicle, fuel cell electric commercial vehicle. Based on vehicle type, the market is segmented into light commercial vehicles and bus and trucks. Increase in demand for electric light commercial vehicles is attributed to the increasing deployment for these vehicles in logistic services.
Browse over XX market data Figures spread through 110 Pages and an in-depth TOC on "Electric Commercial Vehicle Market"
https://www.techsciresearch.com/report/electric-commercial-vehicle-market/2718.html

In terms of propulsion type, FCEV has the fastest growing segment during the forecast period. In the forecasted period, the hybrid electric vehicle segment will account for the highest volume of the market. During the forecast period, the battery electric commercial vehicle market is anticipated to register a CAGR of 18.94%. The expansion of the hybrid vehicle market can be ascribed to ongoing technological advancements that have improved fuel economy and decreased emissions.
On the basis of range, market is segmented among 0-150 miles, 151-250 miles, 251-500 miles, and 500 miles & above. The widespread usage of electric trucks and buses, particularly for applications in public transportation and freight services, is primarily responsible for this market segment's rapid expansion. A wide range of EVs, including light commercial vehicles such as vans, pickup trucks, and utility vehicles, have range between 151-250 Miles. The surge in fuel prices and government measures to reduce fleet emissions of buses and vehicles are driving the use of such EVs.
Asia-Pacific is the largest region for electric commercial vehicles owing to high adoption of electric vehicles in China. China accounted for largest market share in 2021 in Asia-Pacific, with 50% of global sales, China has become the world's largest market for electric commercial vehicles owing to subsidies on their purchase.
Due to the implementation of lockdown to prevent COVID-19 pandemic, sales of electric commercial vehicles in the end of first quarter of 2020 and substantially in second quarter fell in most of the countries affecting current year's performance. Nevertheless, in most of the regions across the globe, the market rapidly recovered at the end of second quarter and became wholesome in the third quarter. Hence, giving positive outlook to the market forecast of year 2022.

Major players operating in global electric commercial vehicle market are BYD Auto Co., Ltd., The General Motors Company, Tesla, Inc., SAIC Motor Corp., Ltd., Nikola Motor Co., Rivian, Volvo Trucks, Renault–Nissan–Mitsubishi Alliance, Ford Motors Corporation, and Toyota Motor Corporation. Players are developing advanced technologies to stay competitive in the market and enhancing their product portfolio in the regions to increase their customer outreach.
Customers can also request for 10% free customization on this report.

SAIC Motor Corp., Ltd. dominated the market in the year 2021, due to its remarkable dealership network, which offers a wide range of economical yet qualitative products with adaptive technological demands of their customers as well as withstanding government's safety norms. The demand for electric commercial vehicles is anticipated to increase globally in the coming years, on account of growing e-commerce delivery services and the increasing need for greater fuel-efficient vehicles.", said Mr. Karan Chechi, Research Director with TechSci Research, a research-based global management consulting firm.
"Global Electric Commercial Vehicle Segmented By Vehicle Type (Light Commercial Vehicle, Bus, Truck), By Propulsion Type (Battery Electric Vehicle, Hybrid Electric Vehicle, Plug-in Hybrid Electric Vehicle, Fuel Cell Electric Vehicle, By Range (0-150 Miles, 151-250 Miles, 251-500 Miles, 500 Miles & Above), By Region, Competition, Forecast & Opportunities, 2017-2027F," has evaluated the future growth potential of global electric commercial vehicle market and provides statistics & information on market size, structure and future market growth. The report intends to provide cutting-edge market intelligence and help decision makers take sound investment decisions. Besides, the report also identifies and analyzes the emerging trends along with essential drivers, challenges, and opportunities in Global Electric Commercial Vehicle Market.

Contact
Mr. Ken Mathews
708 Third Avenue,
Manhattan, NY,
New York – 10017
Tel: +1-646-360-1656
Email: [email protected]
Website: https://www.techsciresearch.com