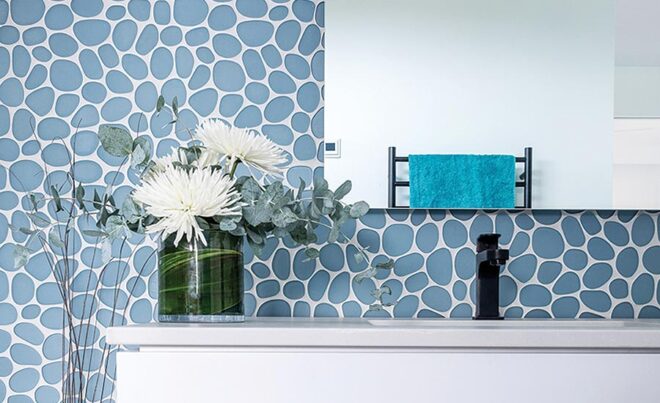 Indonesia tiles market is expected to grow during the forecast period. The major growth driver for this market is the increase in new construction and renovation activities. The growing demand for easy-to-maintain, better aesthetics, and durability and moisture, fire, and scratch-resistant tiles are also other growth drivers of the Indonesia tiles market. According to the data from the Indonesian Ceramics Industry Association (Asaki), Indonesia has the capacity to produce 580 million square meters of ceramic tiles per year, the fourth largest in the world after China, India, and Brazil.
Tile is a flat or curved piece of burnt clay, stone, or concrete that is generally used for ornamental purposes. The usage of tiles is common in both residential and commercial construction because of its durability and resistance to fracture. Tile protective coatings provide outstanding water resistance, stain resistance, and cleaning convenience. The coating on ceramic tiles still prevents dust from accumulating. Tiles can be utilized on floors, walls, and in a building's interior. In residential, commercial, and retail environments, they are also employed as kitchen and bathroom floor surfaces. They are inexpensive, easy to set up, clean, and maintain.The surging demand for tiles due to various benefits such as simple maintenance, affordability, and easy installation is likely to drive the growth of the market in the coming years. The reopening of schools, offices, restaurants, and other commercial spaces, owing to the lifting of COVID-19-related restrictions and the resumption of construction activities, is further propelling the demand for tiles. Additionally, factors such as changing preferences of consumers, rising demand for variety in patterns, designs, and styles, among consumers, and growing renovation activities, are helping the market advance further. Moreover, tile is a popular material used in the construction of infrastructures, such as houses, buildings, and others.Tiles are not only durable and low maintenance but also aesthetically pleasing, which provides further impetus to the market growth. The exponential rise of population in the country has resulted in increased demand for housing and infrastructure, further providing impetus to both the construction and tiles market. Also, the rise of economic stability and improved living standards contribute significantly to the market expansion. Download FREE Sample Report @ https://www.techsciresearch.com/sample-report.aspx?cid=15603    The market is flourishing moderately with replacement and renovation activities and the increasing use of eco-friendly tiles. The construction of various public places such as airports, stations, and schools also contribute to the expansion of the Indonesia tiles market.
Indonesia Tiles Market: Trends & Drivers
Growing Commercial SpacesTiles are among the most liked and adaptable building materials utilized in commercial settings as these are made of components that are significantly more durable than wood or plastic. For increased robustness, each tile is separately attached to others using adhesives. They are resistant to dents and scratches from heavy office furniture, such as chairs or tables since they are burned at high temperatures. Additionally, the surface pattern of tile flooring makes them very slip resistant. Tile is also an excellent choice for commercial spaces because it adds warmth and character to any room. Therefore, the demand for tiles is expected to increase during the forecast period.Growing Urbanization is Driving the MarketIndonesia is rapidly urbanizing, with 57.3% of the population living in urban areas. The growth of cities and population movement are the major causes of urbanization in Indonesia. Housing, the road system, urban transit, the water supply, infrastructures for generating electricity, smart cities, and other aspects of urban administration are all subject to investment. Urbanization increases the need for residential and commercial building, which has fuelled the growth of the Indonesia tiles market. Due to rising middle-class income levels and a stable democracy, Indonesia is experiencing an absolute increase in its urban population. In addition, yearly urban migration in Indonesia is predicted to create new cities with larger populations.Rising Adoption of Ceramic Tiles for Sustainable Development of BuildingsThe model of construction widely established in our society has in general ignored the environmental, social, and economic impact of its activities and has maintained an unsustainable dynamic. The current system has caused issues for those living in urban areas with an increase in energy demands, air pollution, water consumption, low-density residential areas, etc. As a result, in the medium to long-term, an unsustainable building may compromise future needs. Therefore, one of the priorities of the construction industry is to develop and implement solutions aimed at minimizing this issue.The tiles industry is ware of changes in demand and has launched innovative products in the field of sustainable building development. Tile products are long-lasting and inert with significant recycled material content and the capacity to minimize heat absorption, Additionally, the tiles industry is well positioned with regard to the new building values to compete the market.Inclination Toward Dry Pressed Ceramic TilesCompared to marble flooring, ceramic tiles are less expensive. Additionally, they may be altered to suit customer tastes. As a result, there has been a movement in preference toward ceramic tiles as a substitute for paints, marble flooring, metal slabs, and other home décor items.Tiles with anti-skid surfaces are especially made to lessen slip risks. As floor tiles, they are utilized in bathrooms, kitchens, ramps, balconies, and swimming pools. Due to the current expansion of the industrial sector, there is an increase in the demand for anti-skid tiles. Another reason boosting the demand for anti-skid tiles is the increased awareness of the need to safeguard against workplace dangers.Increasing Spending on Residential Construction SectorOver the past few years, there has been a significant increase in residential construction spending, owing to which, there has been a rise in the demand for tiles across the country. Thus, manufactures are focusing on the production of tiles for residential usage.Residential replacement and new installation activities are anticipated to drive the growth of the Indonesia tiles market during the forecast period. The Government of Indonesia is providing homes with low investments, which is expected to support industry growth during the forecast period. In addition, the shift in consumer preference toward the usage of tiles in houses is a key factor expected to fuel the demand.The high adoption rate of tiles in the interior construction industry and high revenue generation from the floor tiles are anticipated to boost the growth of the Indonesia tiles market. The use of tiles for decorative walls is further likely to result in increased market share during the forecast period.
Latest Development
The International Finance Corporation (IFC) and P.T. KIA Serpih Mas (KSM), an Indonesian producer of ceramic floor tiles, inked a contract in May 2022 to fund up to USD76.35 million for the expansion. The funding comprises of a US$6.35 million equity investment, a US$15 million loan for IFC's own account, and a US$55 million syndicated loan from international commercial banks. Utilizing the most recent ceramic tile production methods, the USD106 million expansion project will enable KSM to modernize its facilities and significantly expand the range and volume of its products. The greatest multilateral source of equity and loan finance for private sector initiatives in developing nations is provided by IFC, the World Bank Group's private sector arm.The Indonesian Finance Ministry is considering include around USD 531 million for Nusantara, Indonesia's new capital megaproject, in this year's budget plan. Earlier, the government allocated USD1.6 billion for the Nusantara project in the first 2023 budget plan. The Public Housing Ministry has requested an additional USD0.47 billion or USD0.54 billion for the budget plan, according to ISA.
Market Segmentation
The Indonesia tiles market is segmented into material, type, application, and region. Based on material, the market is segmented into ceramic tiles, natural stone tiles, and mosaic tiles. Based on type, the market is segmented into floor tiles, wall tiles, and others. Based on application, the market is segmented into new residential buildings and others. Based on region, the market is segmented into Java, Sumatra, Kalimantan, Sulawesi, and others.
Market Players
Major market players of the Indonesia tiles market are PT. Satya Langgeng Sentosa (Roman Ceramics), PT. Platinum Ceramics Industry, PT Muliakeramik Indahraya, Niro Ceramics Indonesia, PT Arwana Citramulia TBK, PT. Pusaka Marmer Indahraya (Pumarin), PT Golden Stone Indonesia, PT Kuda Laut Mas (Mass Group), Pt. Eleganza Tile Indonesia, and Sinar Batu Alam.
AttributeDetailsBase Year2022Historic Data2018 – 2021Estimated Year2023Forecast Period2024 – 2028Quantitative UnitsRevenue in USD Million, and CAGR for 2018-2022 and 2023-2028Report coverageRevenue forecast, company share, growth factors, and trendsSegments coveredMaterialTypeApplicationRegionRegional scopeJava, Sumatra, Kalimantan, Sulawesi and Others.Key companies profiledPT. Satya Langgeng Sentosa (Roman Ceramics), PT. Platinum Ceramics Industry, PT Muliakeramik Indahraya, Niro Ceramics Indonesia, PT Arwana Citramulia TBK, PT. Pusaka Marmer Indahraya (Pumarin), PT Golden Stone Indonesia, PT Kuda Laut Mas (Mass Group), Pt. Eleganza Tile Indonesia, Sinar Batu AlamCustomization scope10% free report customization with purchase. Addition or alteration to country, regional & segment scope.Pricing and purchase optionsAvail customized purchase options to meet your exact research needs. Explore purchase optionsDelivery FormatPDF and Excel through Email (We can also provide the editable version of the report in PPT/Word format on special request)
Report Scope:
In this report, the Indonesia tiles market has been segmented into following categories, in addition to the industry trends which have also been detailed below:
Indonesia Tiles Market, By Material:
o   Ceramic Tileso   Natural Stone Tileso   Mosaic Tiles
Indonesia Tiles Market, By Type:
o   Floor Tileso   Wall Tileso   Others
Indonesia Tiles Market, By Application:
o    New Residential Buildingso    Others
Indonesia Tiles Market, By Region:
o   Javao   Sumatrao   Kalimantano   Sulawesio   Others
Competitive LandscapeCompany Profiles:
 Detailed analysis of the major companies present in the Indonesia tiles market.
Available Customizations:
Indonesia tiles market with the given market data, TechSci Research offers customizations according to a company's specific needs. The following customization options are available for the report:
Company Information
Detailed analysis and profiling of additional market players (up to five).
Related Reports
Vietnam Decorative Paints Market
 – 
Opportunities, Size & Growth [2028]
GCC Decorative Paints Market
[2028] – Trends, Share & Forecast
China Elevator & Escalator Market
 –
 [2028] Growth, Trends & Forecast
Table of Content-Indonesia Tiles Market
Product Overview
1.1.  Market Definition1.2.  Scope of the Market1.2.1.    Markets Covered1.2.2.    Years Considered for Study1.2.3.    Key Market Segmentations
Research Methodology
2.1.  Objective of the Study2.2.  Baseline Methodology2.3.  Key Industry Partners2.4.  Major Association and Secondary Sources2.5.  Forecasting Methodology2.6.  Data Triangulation & Validation2.7.  Assumptions and Limitations
Executive SummaryVoice of CustomerIndonesia Tiles Market Outlook
5.1.  Market Size & Forecast5.1.1.    By Value5.2.  Market Share & Forecast5.2.1.    By Material (Ceramic Tiles, Natural Stone Tiles & Mosaic Tiles)5.2.2.    By Type (Floor Tiles, Wall Tiles & Others)5.2.3.    By Application (New Residential Buildings & Others)5.2.4.    By Region (Java, Sumatra, Kalimantan, Sulawesi and Others)5.3.  By Company (2022)5.4.  Market Map (By Material, By Type, By Application, By Region)
Indonesia Ceramic Tiles Market Outlook
6.1.  Market Size & Forecast6.1.1.    By Value6.2.  Market Share & Forecast6.2.1.    By Type6.2.2.    By Application6.2.3.    By Region
Indonesia Natural Stone Tiles Market Outlook
7.1.  Market Size & Forecast7.1.1.    By Value7.2.  Market Share & Forecast7.2.1.    By Type7.2.2.    By Application7.2.3.    By Region
Indonesia Mosaic Tiles Market Outlook
8.1.  Market Size & Forecast8.1.1.    By Value8.2.  Market Share & Forecast8.2.1.    By Type8.2.2.    By Application8.2.3.    By Region
Market Dynamics
9.1.  Drivers9.2.  Challenges
Market Trends & DevelopmentsSupply Chain AnalysisPricing AnalysisPolicy & Regulatory LandscapeIndonesia Economic ProfileList of Major Tile Distributors